Posted by Harmony on 29th Aug 2023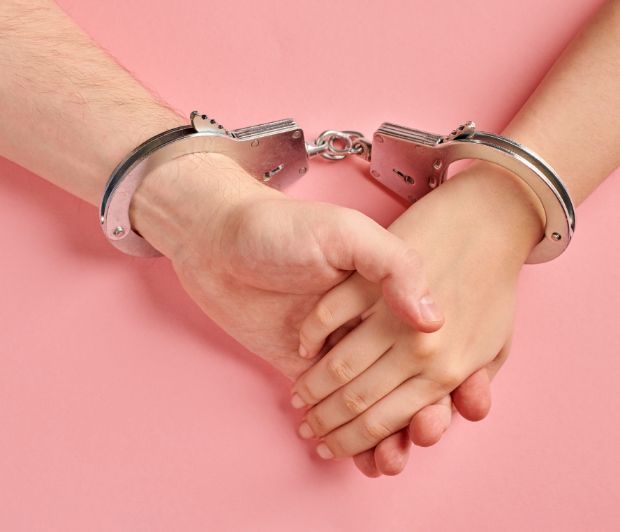 The nights draw in, the weather is grim, and for those of us single and ready to mingle, 'cuffing season' is well and truly here.
"Cuffing season?" we hear those of you in steady relationships cry… "What the hell is cuffing season?" Originating from the African American slang for hooking up, cuffing season is a relatively new phenomenon, bizarrely (and very Britishly) rooted in the weather. As the nights get longer and the air colder, the thought of cuddling up to a short-term significant - or perhaps insignificant - other becomes increasingly attractive to singletons up and down the country.
However, at Harmony, 'cuffing' means something entirely different – and it would be absolutely criminal to confine its delights to just one season! Obviously, we hear cuffing season and compliantly upturn and outstretch our wrists ready to be locked up and led down the lube-slickened slippery slope of soft BDSM, restraints and handcuffs - honestly, any excuse! From foreplay and oral sex to doggy style and a ruddy good spanking, introducing handcuffing into your sexual repertoire can take things from mere middling to mind-blowing, toe-curling, sheet-clenching in a matter of minutes! Read on to find out how Harmony's range of rope cuffs, leather handcuffs, metal handcuffs and bed restraints can take your sex life from 0 to 100 in no time at all...
Safety First
Now we've mentioned this plenty of times before but it's super important so pay attention. With BDSM, consent and safe words are absolutely the order of the day before indulging in any kinky play. For the best sex, whether it's with someone you've been with for yonks or the first time with a hot and horny stranger you met just hours ago, make sure your boundaries, your no-go areas and your stop signs are clearly communicated before you get down to your kinky fetish role play.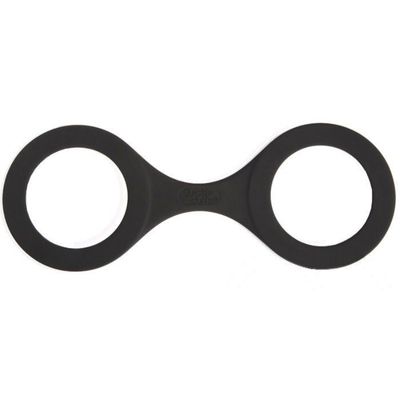 Beginners Luck

If this is the first time you've thought about adding handcuffs to your sex life, you probably want something simple and affordable to test the waters. Quickie Cuffs are the perfect intro. A slick and comfortable alternative to traditional metal restraints or buckle-fastening cuffs, these black silicone cuffs can quickly slip on and off, but still do the job when you're begging to be tied to the bedpost. Six centimetres in diameter, with no keys and no chain, these are super simple making them ideal for beginners - true quickie cuffs if ever we saw them!
Tie Me Up, Tie Me Down
Although not strictly cuffing, as there's no actual handcuff involved, the ancient Japanese art of Shibari is an entirely beautiful and increasingly popular form of restraint intriguing people and converting them into rope bunnies even today. A super sexy way of tying someone up in the bedroom, this sultry form of bondage can feel incredibly intimate and sensual, especially if you use something soft like our Fetish Fantasy Japanese Silk Bondage Rope. At 35ft you get more than enough length to play with, and with a blindfold included to heighten sensations, you're guaranteed to drive your lover wild with dripping desire!
Classic Kink
If your fantasy involves more traditional metal cuffs, then look no further than this pair of handcuffs from Ouch! With two keys and a quick-release mechanism just in case (because the last thing you want is to bring a locksmith in while you're tethered to the headboard!), these simple beauties come clad in ultra-soft fur to minimise skin markings. Also covered in fur are these beautiful handcuffs from Sex & Mischief. A gorgeously durable restraint system tied together by a 5.5-inch chain, these will stand up to any kind of vigorous bedroom activities you can throw at them, making them perfect for seasoned submissives and beginners alike. With faux fur and leather on the inside and outside respectively, these are also part of our vegan sex toy range, perfect for extending your love for each other to the rest of the planet.
Luxury Links
If you desire something luxurious for the bedroom, look no further than these decadent Halo Handcuffs from the sexperts at Ouch! Exquisitely crafted from dark green leatherette and complimented by gold accent halo rings, this restraint's elegant design exudes sexiness and is bound to get the blood pumping to all the right places! If this look does it for you, then browse the Ouch! range and collect the whole beautiful dark green matching set. Browse the Ouch! range for everything from ankle cuffs and hogties to full restraint kits, all designed with one thing in mind - delivering pure pleasure…
They'll Never Know
For many, the charm of BDSM is in the thrill of teasing and anticipation. Nothing delivers anticipation quite like these beautiful Desir Gold Metallic Handcuffs from Bijoux Indiscrets. Designed to look like 'regular' jewellery, the fine mesh golden cuffs can be worn out and about, with no hint of their real purpose to anyone other than you and your partner. One wrong action though, one naughty move and your wrists can be bound together using the matching interlinking chain as punishment for your misbehaviour. Coming in a beautiful gift box, these are the perfect present for that special someone in your life who needs to be kept in line.
Unwrap Me

With the Seven Til Midnight Lace Cami, Handcuffs & Thong, it'll be you that's wrapped up like an absolute treat ready for undressing! Tantalising and teasing in equal measure, this matching set is fantastic if you're after a bit of soft bondage pleasure. Add stockings to the mix for some wickedly devilish couture, and give your partner the gift of full control with the key to the accompanying handcuffs. What could be more alluring?

Handcuffs are Just the Start
So there you have it, Harmony's ultimate guide to cuffing season. With more of us than ever before looking to explore the world of BDSM, restraint and control, handcuffs offer an easy way to test the waters. They're sort of like the gateway drug to the harder crack (or whip) of the BDSM world. Anyway, if the handcuff waters feel warm and inviting why not browse our full range of handcuffs today?
Happy cuffing season x